Roll over image to zoom in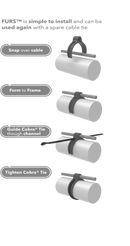 Description
The Flexroute® Universal Routing System - FURS™ forms around both the cable and frame providing uniform traction and long-lasting protection that a cable tie just can't accomplish on its own.  FURS™ safely secures and protects a conduit of any kind (pneumatic, hydraulic, coaxial, fiber optic, mechanical) to a fixed structure from submersible drive shafts on fishing boat trolling motors to GPS systems and brake lines on a SCORE Baja Trophy Truck®.  
Our system is for DIYers and industry professionals alike.  FURS™ is out in the wild today keeping cables and frames protected with a professional look standard cable ties and other fastening products just can't achieve.
Flexroute® Universal Routing System is intended to work with 5mm wide low profile zip-ties. 4 pack includes 6 zip ties, 8 pack includes 12 zip ties.
| | | | |
| --- | --- | --- | --- |
| FlexRoute | Min cable dia | Max cable dia | |
| Small | 3/16 inch (4mm) | 1/4 inch (6.4mm) | |
| Medium | 1/4 inch (7mm) | 3/8 inch (9.4mm) | |
FlexRoute is not intended for load-bearing applications. Do not use if failure of either the FlexRoute or the zip-tie would cause damage or injury.

Payment & Security
Your payment information is processed securely. We do not store credit card details nor have access to your credit card information.